About Albaugh Law Firm
A Team with More Than 70 Years of Experience Combined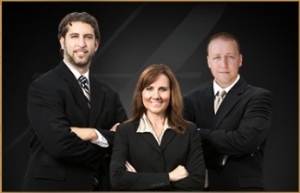 The Albaugh Law Firm is made up of a dedicated team of practiced attorneys and skilled staff members. Click the links below to learn about each attorney's education, experience, and more.

Our firm is support two dedicated paralegals, two office assistants, and our business manager. We are dedicated to providing each client with personalized attention, honest communication, and zealous representation. In and out of the courtroom, we are committed to every Floridian we represent. We offer free case consultations and make ourselves available for evening and weekend appointments. We serve St. Johns, Putnam, and Flagler counties.
Practice Areas
Criminal Defense
Aggravated Assault
Appeals
Assault
Battery
Bond Motions & Reductions
Domestic Battery
Driving Offenses
Drug Crimes
DUI
Expungement
Felonies
Juvenile Crimes
Misdemeanors
Probation Violation
Sex Crimes
Theft Crimes
Trespassing
Weapon Violations
White Collar Crimes
Family Law
Divorce
Adoption
Alimony
Child Custody
Child Support

Military Divorces
Modifications
Paternity
Relocation
Time Sharing & Visitation
Uncontested Divorce
Bankruptcy
Chapter 7 Bankruptcy
Chapter 13 Bankruptcy
Foreclosure Defense
Loan Modifications
Military Bankruptcy
Repossessions
Short Sale
Wage Garnishments
Personal Injury
Car Accidents
Dog Bites
Medical Malpractice
Motorcycle Accidents
Nursing Home Abuse
Premises Liability
Slip & Fall
Truck Accidents
Wrongful Death
Why Should I Hire the Albaugh Law Firm?
Have you been arrested for a crime and need your freedom protected? Are you facing a family law, foreclosure or bankruptcy issue that requires protection of your family and finances? Have you been charged with a crime or injured due to the negligence of another? We are here to help. We investigate the specific facts of your case and provide aggressive representation to safeguard your rights. You are likely feeling stressed over the many complex nuances involved in your case. With the Albaugh Law Firm at your side, you can receive relief by handing the legal burdens over to us. You deserve to have an experienced and knowledgeable lawyer by your side.
At the Albaugh Law Firm, our St. Augustine lawyers have more than 70 years of combined experience handling a wide range of family law and criminal defense cases. Our attorneys have earned the respect and recognition of their peers, and have achieved recognitions such as the Excellent rating on Avvo. Furthermore, our firm has received 5-star client reviews on Google. We are here to help you after being arrested for a crime or served with divorce papers. We take the time to explain your rights and ensure you understand what to expect as your case moves through the court system. Having a dedicated attorney by your side can greatly improve the chance of obtaining a successful result. During a free case consultation, we will review the facts of your case and put a strategy in place to aggressively pursue the best result possible.
Ensure Your Rights are Protected with Experienced Attorneys
The attorney you choose for your case can have a profound impact in the overall result. By choosing our firm to represent you, you can be sure that everything legally possible will be done to maximize the likelihood of achieving a positive outcome. If you would like to learn more about our attorneys and how we can help, call today to receive a free consultation.
Put your trust in the Albaugh Law Firm, where we have accomplished excellent case results for clients in the past and are dedicated to adding you to the long list of happy clients. Whether your case can be settled or needs to go to court, we are devoted to working hard no matter what the particular circumstances. Each case is unique and each case strategy is built on the specific details of that situation. Our legal team's goal is to help our clients recognize their unique needs so that we can help fulfill them. The Albaugh Law Firm has earned an excellent reputation in St. Johns, Flagler, and Putnam counties where we work tirelessly to achieve the best possible result for every one of our clients.
For representation you can trust, contact Albaugh Law Firm. Schedule a free case evaluation today.
Evenings & weekends available.
Jacksonville: 904-450-5313
St. Augustine: 904-471-3434
---
Attorney Ryan M. Albaugh
Ryan has been named one of the Top 100 Trial Lawyers. His practice includes litigation related to criminal defense, foreclosure defense, bankruptcy, family law, and injury cases. With over 15 years of experience, Ryan has handled thousands of cases, including over 50 jury trials. Ryan's experience as a litigator provides him with the knowledge necessary to protect his clients and fight for what is right.
---
Attorney Cheryl A. McCray
Cheryl focuses her practice in family law and criminal law, including juvenile cases. With over 26 years of legal experience, Cheryl has handled countless cases and earned an impressive collection of legal accomplishments. Early in her career, Cheryl worked for law firms representing both family law and injury clients and later opened and operated her own practice with an emphasis on family law.
---
Thomas F. Walker
Thomas F. Walker has handled thousands of family, criminal, and personal injury cases for clients over the span of his decade-long legal career. He brings a wealth of experience to his cases and an understanding of client relationships and being available for the needs of his clients at their times of crises.