Carrying a Concealed Firearm: Laws in St. Augustine and St. John's County Florida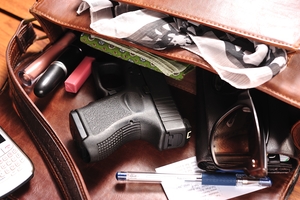 It is legal to carry a concealed firearm in St. Augustine and St. John's County, as long as you apply for and obtain a concealed carry permit, and you adhere to the restrictions governing where you can and cannot carry a concealed weapon.
What are the current concealed carry laws in Florida?
Florida state law allows a person to carry a concealed weapon in many public places, provided that person has been issued a concealed-carry permit by the state.
The concealed carry law includes, however, a lengthy list of places where concealed weapons may not be carried, even if the carrier has a concealed-carry permit. This list includes, but is not limited to, police stations, polling places, courthouses, prisons or jails, schools or their events, airports, establishments that serve alcohol and governmental meetings.
When is a firearm considered to be concealed?
Florida law considers a weapon to be concealed when it is "carried on or about a person in such a manner as to conceal it from the ordinary sight of another person." This definition applies not just to firearms, but to other weapons, as well, including electronic weapons, chemical weapons, knives and billy clubs.
What are the penalties for unlawful concealed carry in St. Augustine?
Carrying a concealed weapon without a permit or in a place where concealed carry is prohibited by law is a first-degree misdemeanor that is punishable by up to a year in jail and a $1,000 fine. If the concealed weapon is unlicensed, the offense may be elevated to a third-degree felony punishable by up to five years in prison and a $5,000 fine.
What could prevent you from getting a concealed carry permit?
You could be denied a concealed-carry permit is you've been convicted of a felony or if you have certain domestic violence or alcohol/drug-related offenses in your past; you can also be denied if you are currently facing criminal charges or have an injunction for protection issued against you. You may also be denied if you've been committed to a mental institution, if you've otherwise been deemed unable to safely handle a firearm because of physical infirmities, or if you have not received training in firearms handling and safety.
You are ineligible to carry a firearm in Florida, concealed or otherwise, if you are under the age of 21 or are not a U.S. citizen.
If you have been denied a concealed carry permit because of your record, or you are facing weapons violation charges in St. John's County, contact our skilled criminal defense attorneys today. We are former prosecutors who are recognized as one of The National Trial Lawyers Top 100 Lawyers, and have over 70 years of combined experience. Call today or Click here to schedule your free consultation!