What Amendment 2 Means for Florida's Marijuana Laws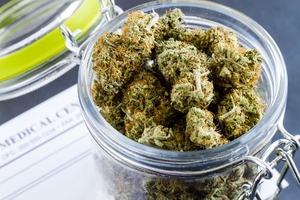 This November, Florida is on schedule to vote on a constitutional amendment legalizing medical marijuana. Though past initiatives have been narrowly voted down, experts are optimistic that the measure, named Amendment 2, will pass by the required supermajority.
Many counties have already begun preparing for legalization's likely victory in November, moving toward decriminalizing possession by individuals and changing zoning policies where relevant in order to accommodate future retail sites. In fact, Florida's first dispensary has already opened this month in Tallahassee, under a CBD program passed in 2014 by a vote of the legislature.
If Amendment 2 passes, this will mean lots of changes for patients, consumers, purveyors and processors within the cannabis space. Let's take a look at some of the immediate and long-term effects of medical marijuana implementation in Florida.
The list of approved "debilitating medical conditions" to qualify for medical marijuana is slightly more restrictive than the proposed 2014 initiative, but it also leaves room for physicians to determine need. Patients with conditions like cancer, PTSD, ALS, Crohn's and Parkinson's disease will not have to worry about going without medicine.

Several dispensaries carrying only products which are high in CBD and low in THC are already slated to open this year. Amendment 2 would allow dispensaries to offer a wide array of cannabinoid products from flower to edibles, free from restrictions.

Many of the details of the law will be left up to interpretation and enumeration within the first six months of passage. This will include individual possession and cultivation limitations, licensing requirements for patients and businesses, standards for testing, security, and product labeling.

Creating a framework for a medical program is hardly likely to bring about wide-scale legalization chaos. Criminal penalties will still exist for smoking in public and driving under the influence (DUI), including the use of probable cause by police to determine the presence of marijuana. Non-medical redistribution of product, and operating businesses without a license or outside of set standards will also be punishable offenses.
For current consumers of cannabis living in Florida, now is a good time to determine whether or not you will be eligible for the new medical marijuana program. Read the full text of the proposed initiative to familiarize yourself with the rules. Remember, in some counties, penalties will still apply for individuals caught with marijuana without a medical card.
By November, many patients in need will achieve legal status for their treatment. Much of what Amendment 2 will bring forth is still up in the air. What's certain is that Florida's cannabis industry is finally ripe for growth as the state moves toward this historic vote.
Remember that cannabis consumption is still illegal under Florida state law. If you find yourself facing possession or other drug crime charges in St. Augustine or Jacksonville, please contact our firm to schedule a free consultation.