A Parent's Guide to Synthetic Drugs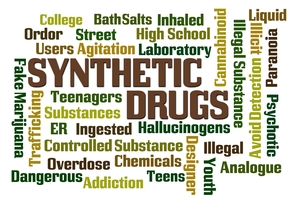 For years, the most commonly abused drugs in teens included marijuana, heroin, and cocaine. The times are clearly changing and most parents would be surprised to learn that there is a new problem on the horizon. Synthetic drugs are not just dangerous, they're deadly, and news stories are popping up about the serious nature of these outwardly unassuming substances.
What are synthetic drugs?
Although they sound like something out of a sci-fi movie, synthetic drugs are unfortunately very real. The drugs are chemically laced with illegal substances that are intended to mimic the effects of marijuana and cocaine. Made from chemicals and dried plants, synthetic drugs often resemble bath salts or powdery substances.
The most popular forms of synthetic drugs include:
Spice: Similar to the high one achieves off of marijuana, "spice" is also sold under the names K2 and fake weed. Health consequences include rapid heart rate, hallucinations, and increased blood pressured. Spice is illegal to sell, buy, or possess.

Molly: MDMA is changed into a powder, encapsulated, and taken orally. The drug is similar to cocaine and can even cause major organ failure. "Molly" often includes other drugs, which can increase its harmfulness.

Bath salts: A group of drugs is combined with synthetic chemicals to appear similar to bath salts. The powder is consumed orally or by inhalation and can cause serious heart problems and paranoia.

Krokodil: This drug is highly addictive, as it is designed to resemble heroine. Users suffer from disturbing side effects and the drug is slowly becoming more popular in the U.S.
What warning signs should I look for in my child?
One of the biggest dangers of synthetic drugs is that their potency is much stronger than a normal substance. Even users who ingest just a few grains of the drug can immediately get high. One researcher said that some synthetic drugs cause users to lose control and forget that they ever took the drug, once the effects wear off.
So what can alert you to possible synthetic drug usage? Look for seizures, hallucinations, paranoia, and aggression. Less noticeable signs might include agitation, excessive sweating, an inability to speak, and heart palpitations. Symptoms can stick around for several days or hours.
Ryan Albaugh and his team at Albaugh Law Firm are concerned about the threat that synthetic drugs pose to young people in St. Augustine, Jacksonville and throughout Northeast Florida. Ryan weighed in on the issue, saying:
We are seeing more and more cases of kids trying synthetic drugs in Duval and St. Johns County. There is a potentially deadly misconception among young people that, because they can legally buy the substances they are using, they must be safe. Smoke shops and convenience stores up and down the First Coast are trying to stay one step ahead of the changing laws, and so long as they can, our children and families will continue to pay the price.
Synthetic drugs are highly addictive, so one instance might be a warning sign that an addiction has already begun. It is crucial that you talk openly with your children about the dangers of synthetic drug use and ask them to be honest with you. One hard conversation could end up saving your child's life.