Things to Know Before Drinking in Public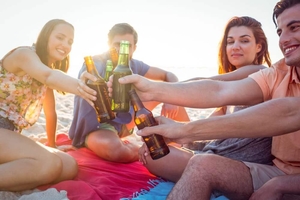 Northeast Florida has lots of reasons to enjoy a beer or other alcoholic beverage outdoors. Many people enjoy drinking at the beach, while tailgating at a Jaguars game, or bar hopping on St. George Street in St. Augustine or in Riverside and Bayside in Jacksonville. In reality, there are almost as many different rules about having an open container as there are places or reasons to have one. However, many local cities and municipalities like Jacksonville, Jacksonville Beach, Atlantic Beach, Neptune Beach, and St. Augustine have enacted ordinances making it unlawful to possess or consume an alcoholic beverage in a public place.
What is the General Rule on Drinking in Public in Florida?
The ordinances in different places focus on different aspects of possessing or consuming alcohol in public. However, the general rule in all of them is that it is unlawful to possess or consume alcohol in public.
Are There Exceptions?
In St. Augustine, the city commission recognized that tourism is important to the economy and so carved out an exception that people riding in a horse drawn carriage around town can consume alcohol during their ride.
Possession and consumption of alcohol is also allowed in and around Everbank Field during most sporting events. Just remember that the crimes of disorderly intoxication and DUI still apply.
What Are the Penalties?
The punishments for violating an open container ordinance can be severe. Most are classified as misdemeanor criminal offenses that stay on your criminal record. In Jacksonville Beach, you can be sentenced up to 90 days in jail and/or fined up to $500.00 if found guilty. In Jacksonville, the fine is only $50 and the maximum jail sentence is 30 days. However, the adjudication of guilty cannot be withheld upon conviction meaning that you will have a permanent criminal record.
Defenses for Violating Open Container Law
Many people who are arrested for violating an open container law had no idea they were breaking the law. However, whether the crime was committed with intent or not, it is important to understand defenses to such charges in order to avoid potential jail time (especially if this is not a first-time offense), fines, and a permanent conviction on your criminal history record.
One defense that may be available is to assert illegal search and seizure. This may apply if the alcoholic beverage is not obviously identifiable (i.e. is held in a nondescript container), and therefore the officer may not have the probable cause necessary to seize the beverage to verify that it is alcoholic in the first place.
Arrested? Contact Albaugh Law Firm Today.
Knowing the local laws and how to best defend against a charge is complicated and requires legal know-how. The criminal defense attorneys at Albaugh Law Firm are former prosecutors who can protect you and your future. Call 904-471-3434 today for a free consultation today, or contact us online. With offices conveniently located in St. Augustine and Jacksonville we are here to help.