What Happens to My Credit Report During Bankruptcy?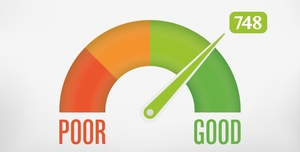 Many individuals are hesitant to file for bankruptcy out of fear of how it may affect their credit score. In fact, one of the most common myths about bankruptcy is that filing for bankruptcy will forever tarnish a person's credit and make it nearly impossible for them to ever receive a loan or credit card again in the future. While filing for bankruptcy will indeed harm your credit score in the short run and the three major national credit reporting agencies are required to include your filing on your credit report for 10 years, this does not necessarily mean that you will have bad credit for 10 years. In fact, filing for bankruptcy can in many ways be seen as the first step towards the long-term improvement of your credit score.
What Will Happen to My Credit Score During Chapter 7 Bankruptcy?
Under the Fair Credit Report Act (FCRA), the negative impact that a bankruptcy filing can have on a person's credit is kept to a minimum. The FCRA requires creditors to only report information that is accurate and correct. Any debts that are discharged through Chapter 7 bankruptcy being reported as having a zero balance and with an indication that they were discharged through bankruptcy. After filing and receiving a discharge, it is generally recommended you wait at least 30 to 60 days before pulling your credit report from all three credit bureaus. Make sure all of your discharged debts are accurately reported with zero balances. If you find an incorrect listing, you may dispute it under the FCRA.
Creditors are prohibited from reporting discharged debts in the following manners:
Having a balance
Being active
Being late
Being charged off
Being a new debt
What About Chapter 13 Bankruptcy?
If you do not qualify for Chapter 7 bankruptcy or choose to pursue Chapter 13 bankruptcy to avoid liquidating your assets, your debts will not appear on your credit report as having been included in your bankruptcy with a zero balance until you complete your Chapter 13 repayment plan and adhere to its terms. This can take anywhere from three to five years, depending on the specifics of your plan. With that being said, immediately upon filing for bankruptcy, your creditors are required to cease reporting to the credit agencies under the original agreement. If they continue reporting, they must report in accordance with your repayment plan. This will allow your credit score to gradually improve without the need to wait the entire duration of your plan. Likewise, any inaccurately reported information may be contested under the FCRA.
Struggling with Debt? Contact Albaugh Law Firm
If you are struggling to make ends meet under the crippling weight of debt, the knowledgeable Jacksonville & St. Augustine bankruptcy lawyers at Albaugh Law Firm can guide you step-by-step through the process of filing for Chapter 7 or Chapter 13 bankruptcy. Having earned a 10.0 Superb Avvo Rating and numerous positive testimonials from past clients, we have what it takes to help get you on the road towards financial freedom.
Contact us online or schedule a no cost consultation today to get started.